Miranda is the kind of girl who walks into a room and brings a tremendously positive energy with her! Her happiness is infectious and she had us all laughing within minutes! She's also the rare type that flips a switch the moment a camera is turned on her. Her silly, fun, playful attitude was suddenly all business when I picked up my camera and shot our first photo of the day. Her look instantly went sultry, with pouty lips and incomparable bedroom eyes. The camera absolutely LOVES her face and her eyes are hypnotic the moment she "turns it on" and starts modeling. And her curves are the stuff that only perfectly drawn cartoon characters are made of… with a flawlessly beautiful shape that is so classically gorgeous!  I'm so in love with the photos from our session… and watching her eyes as she viewed her images for the first time melted my heart. Miranda was so excited to be a part of our interview series and I was thrilled to be able to share her experience and a handful of her photos with you all!
LHI: What initially made you decide to book a boudoir shoot?
Miranda: Well, actually my mom is the one that showed me on Facebook and she wanted to do it so naturally like mother like daughter I was all for it. When I was really little I was in some pageants and I did really well. However, as I got older my height stopped short while my waist kept going, which made me not the "ideal" type to be in pageants or model anymore so I stopped. It was on my bucket list to do at least one photo shoot and why not half naked with some strangers.
LHI: What was your biggest fear before you booked your shoot? Did it come true and, if not, what happened instead?
Miranda: While I mean the being half naked in front of strangers I think is definitely scary, especially when you are not so comfortable with your body image. Or it could have been the not knowing. Between not knowing what to expect going in and taking the pictures to not knowing what they are going to come out like. There are so many things that run through your mind… and yet it was NOTHING like I could ever imagine. From the first minute to not knowing how to sign up to talking about doing more photos, Beth has been in great communication the entire time. She anwsers every question, gives advice and makes you feel like even though you just met her you have known her for a million years. I was nervous and I didn't know what to bring, and she walked me through a ton of great ideas for my body type. The day of the shoot was the first day I met her in person, and I was super nervous. But she was extra calming and made me feel at home. And of course stripping down into my underwear and bra was completely not in my daily agenda so it felt strange and of course I was uncomfortable at first, but after a couple minutes of taking the pictures and having encouragement on how well everything looked it was gone…and the fear and nerves went away and I was as left with nothing but empowerment!
LHI: What was your favorite part of your photo shoot?
Miranda: Oh man, I'm supposed to pick just one? Well I think the reveal was the most emotional part. I was with my mom and I mean I loved looking at my pictures, but watching my mom's pictures be revealed to her for the first time was something you can not put into words. To make a woman feel so beautiful it brings her to tears is a true gift in itself, and Beth has that gift. Even when you do not see it in yourself she can find it. I mean it's truly unbelievable how this whole experience makes you feel. It makes you look at yourself with new eyes.
LHI: Why should women treat themselves to this experience?
Miranda: Why not?? Who doesn't like to get pampered and shown the beauty that they have? It is one of the most empowering things that you will ever do in your life! It showcases you, no matter what size, shape, or color you may be, as "perfect" because beauty doesn't have a limit on it anymore and that's BEAUTIFUL thing!
LHI: If you were going to tell your best friend about your experience with Lost Highway Imaging, what would you tell her?
Miranda: I already have! I show and tell everyone I meet, because I am so proud and I think everyone else should feel this way too. I tell them that it is the BEST thing you could ever do. They are amazing people to work with. You get pampered and have them highlight your beauty and then show it off. They give great instructions and nothing is ever confusing. You're having fun, laughing and busting a sweat while you're taking them. Which is serious work! Then the reveal, which is incredible. It's something you get to share over and over again with other people you share this with. And it just keeps passing along the line and getting more people to see themselves for what they really are…BEAUTIFUL!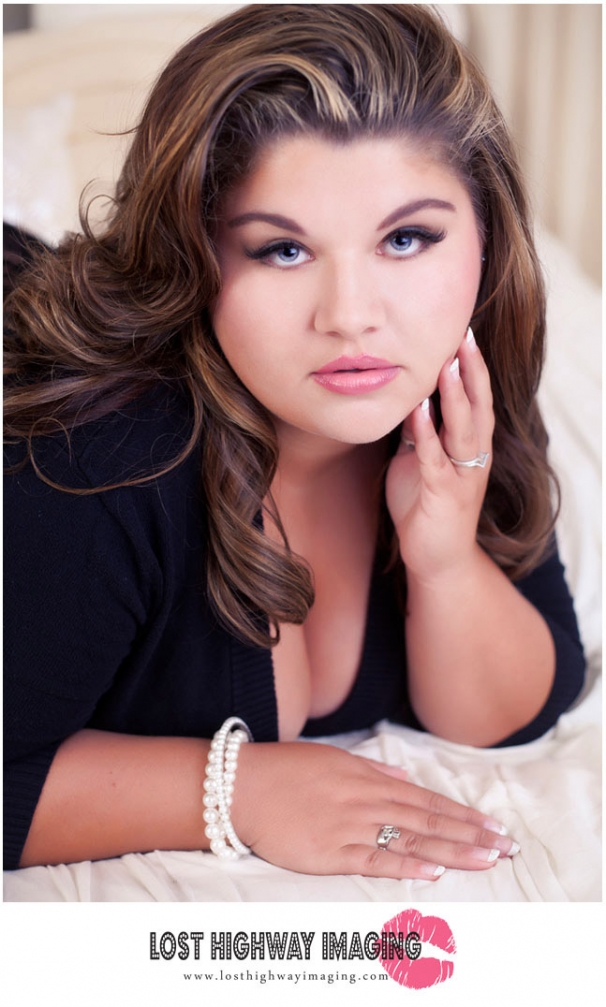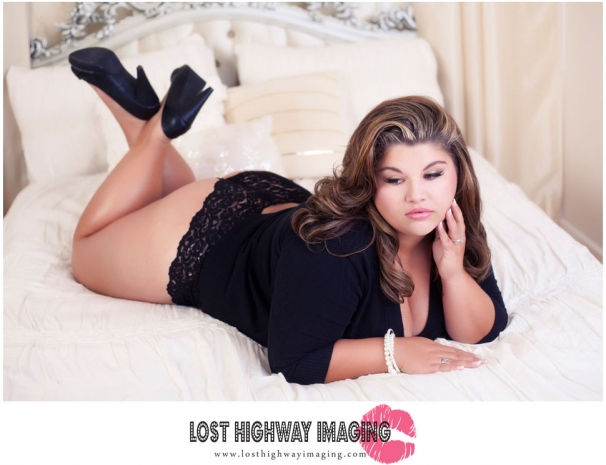 Hairstyling by Alex Williams. Makeup by Beth Claire. Thank you so much, Miranda, for sharing your experience! You are a truly gorgeous woman and it was an honor to photograph you!
Interested in booking your own boudoir photo shoot? Want a makeover transformation in our studio? We are located in Preston, Connecticut and serve clients all over New England, from Maine and New Hampshire to Rhode Island, Massachusetts and beyond! Our CT boudoir photography studio is staffed by an all-female team of makeup artists, hairstylists, wardrobe designers and our photographer, Beth Claire. If you've ever dreamed of doing a glamour, pinup, boudoir or beauty shoot send us a message for more information! Email Beth at beth@losthighwayimaging.com