Darcy was one of those people that you meet and instantly feel like you've known forever. It's not something I talk about much, but I have social anxiety and panic attacks and I often feel just as nervous as my clients do before they arrive. Darcy and I had messaged back and forth for quite a while before her shoot and I knew she was battling with severe chronic Lyme Disease. I reassured her that we would go at her pace and that we'd get beautiful shots, even if it took all day. She had a rough night and wasn't feeling well and I know she even considered canceling… but here's the thing about boudoir… when you don't feel like you can possibly do it is when you need it the most! I felt like I knew her before she even arrived but, once she got to the studio, we were like old friends. Her smile lights up a room and she has a wicked sense of humor. We were laughing like fools before she'd even gotten into the makeup chair. Our mutual passion for animals (especially our dogs) gave us a starting point but there was so much more once we got talking. I think she forgot to be nervous before we even got as far as setting her hot rollers… and so did I! One of the greatest things about Darcy is that she trusted me completely the minute we started shooting. She totally let go and let me lead, which is crucial! No matter what pose I coached her into, she trusted it. She arched and pointed and stretched her heart out and it shows in her gorgeous photos!!
Chronic illness is something I am familiar with, both personally and professionally. I understand that sometimes it may take much longer from someone battling an illness to do things that others might take for granted. One of the reasons that I only accept one client per day is because I don't want anyone, especially those who might need to move slower, to feel rushed. I want everyone's experience at my Connecticut boudoir photography studio to be transformative, healing, fun and empowering beyond their wildest dreams! I want time with every client to connect to them, to get to know them and to let them relax and let their guard down. We live such rushed lives and I want an escape from that constant pressure. My studio doesn't even have a clock. My favorite thing about my job is getting lost in the creative process and watching my clients blossom. And, in many (many, many) cases, watching them grow into their own power and forget their chronic illness and daily battles. Watching Darcy let go of what usually holds her back nearly brought me to tears because when she walked out of my studio she was on a tremendous high! Her posture had changed, she had a huge smile on her face and her eyes were lit up like a kid on Christmas morning… despite the sore muscles! I'm so thrilled that she decided to share her story, and her beautiful photos, with us here!
LHI: What initially made you decide to book a boudoir shoot?
Darcy: I was in a deadlocked battle against Lyme Disease. My symptoms were overwhelming- my skin tingled constantly, I had intense pain in my hands, arms, hips and feet, I was light and sound sensitive, I couldn't concentrate, my speech changed, my heart raced and my memory was disintegrating. These are a few of the things that riddled my body and mind on a daily basis and had been for a year. I hated the body I was living in. I had been following you and Lost Highway on social media sites because friends recommended you and was enchanted. Everyone was so beautiful and so strong in your photos. I wanted that. I needed that. So when I was in between rounds of antibiotic treatments I contacted you. Absolutely terrified and excited at the same time. Because I live in Maine and I needed a Saturday appointment we scheduled for three months away. I was grateful for the time. I had something to push for and look forward to. I was going to be doing something just for me.
LHI: What was your biggest fear before you booked your shoot? Did it come true and, if not, what happened instead?
Darcy: I have to admit that I had a full on panic attack the night before. My Lyme symptoms had surged again and I wasn't feeling as good as I hoped. I arrived at my friends the night before and was trying on outfits for her when everything seemed heightened. The tingling, the pain and my temperature was all kinds of out of whack. I even messaged you to see if you had AC or fans in your studio! On top of that, I have always been just a little outside of what people's expectations are. My clothes are what I like but not quite on trend. I don't generally indulge in dying my hair or getting my nails done even though I like to. Most of my life I have felt like an odd duck in comparison to other women. I have always struggled with the idea of my beauty and what my perception of the truth is in regard to that. I think I was mostly terrified that the camera would capture my discomfort with myself.
It absolutely did NOT come true. After chatting with you during hair and makeup I put on the first outfit, took as deep of a breath as I could in a corset and went for it. I listened to you and your voice and it all seemed easy. When you showed me one of the pictures you had just taken on your camera, I was emboldened. There I was- so beautiful and so strong.
LHI: What was your favorite part of your photo shoot?
Darcy: You. You listened, you shared and you rescued the me that I wasn't really sure had ever even existed.
LHI: Why should women treat themselves to this experience? Did you see yourself in a different light after your shoot?
Darcy: You deserve it. You deserve to pamper yourself. You deserve to see yourself in the light that Beth does. There is none of the everyday judgement and bullshit that women put each other through with this experience. It is about empowerment and self perception. My perception changed. I saw a me I had never seen before. I know that she is in there now and give her the time and attention she deserves.
LHI: If you were going to tell your best friend about your experience with Lost Highway Imaging, what would you tell her?
Darcy: Just do it. Take the leap even if you are scared. All of it was amazing! Even when my muscles were saying, "You want me to do what now?!" I never regretted it. When we were done I was exhausted and HUNGRY and so very proud of myself…and after a year of being sick I was happy with myself.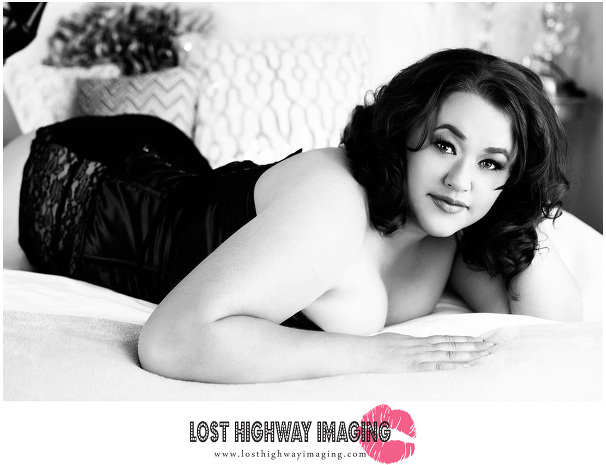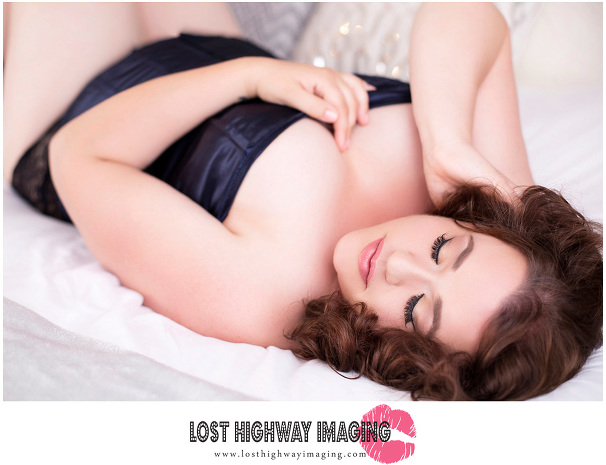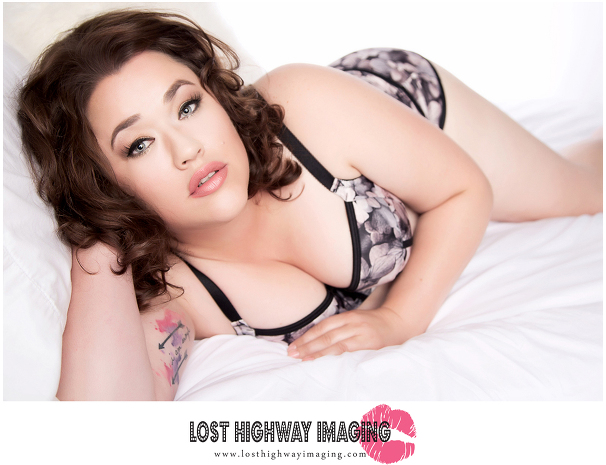 Thank you, Darcy, for sharing something so beautiful and personal with us. Thank you for trusting me with your photos and thank you for just being you.
Interested in booking your own boudoir photo shoot? Want a makeover transformation in our studio? We are located in Preston, Connecticut and serve clients all over New England, from Maine and New Hampshire to Rhode Island, Massachusetts and beyond! Our CT boudoir photography studio is staffed by an all-female team of makeup artists, hairstylists, wardrobe designers and our photographer, Beth Claire. If you've ever dreamed of doing a glamour, pinup, boudoir or beauty shoot send us a message for more information! Email Beth at beth@losthighwayimaging.com