A common question I get is whether or not clients have to get naked for their shoot. The answer is a resounding NO! You DO NOT have to get naked for your boudoir shoot. You don't even have to wear lingerie. Boudoir is all about what makes YOU feel sexy. Some women feel sexiest in a bra and panties or a naughty teddy and others feel sexiest in an oversized sweater or a flannel shirt. If you feel sexy then you will LOOK sexy. I firmly believe that sexy is an attitude, not an outfit, a number on a scale or a size on a tag. Your boudoir shoot should be an experience that leaves you confident, excited and glowing and the only way it is going to do that is if you feel great! And you'll feel best when you are wearing what you love! From plain cotton tanks with simple undies to bulky knit sweaters and knee-high socks, we can rock casual looks just as perfectly as sultry ones!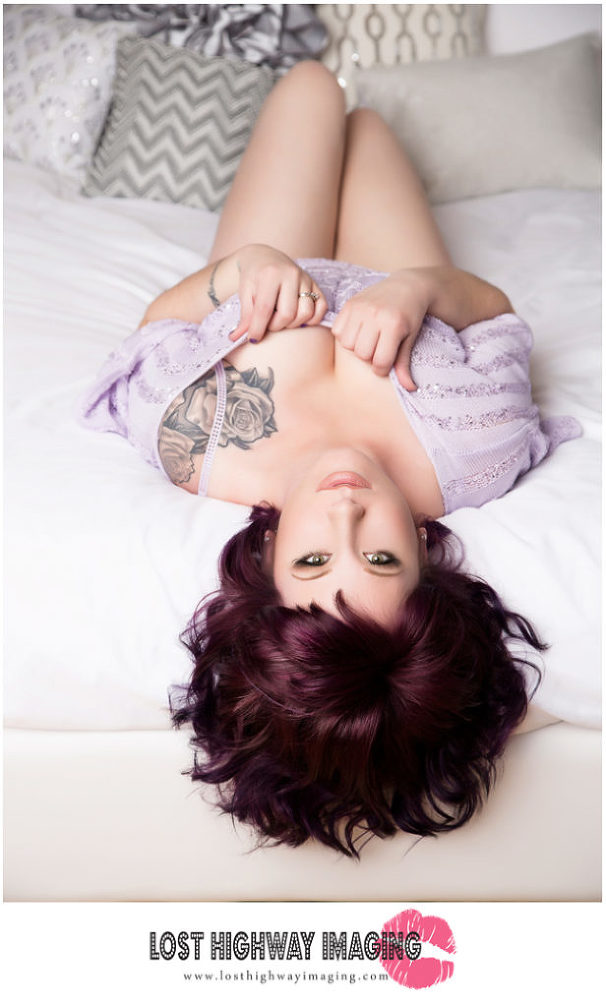 The gorgeous client above borrowed one of my favorite sweater and bra combinations from the studio closet! The New York & Co. sweater pairs perfectly with the Victoria's Secret rhinestone strap bra! (The saleswoman in VS probably thought I had lost my mind when she asked if I needed help as I was walking around matching bras and panties to a sweater! Haha!) We chose purple because of the purple highlights in her hair and the way it makes her skin glow! The sweater also creates a peekaboo cleavage effect, which is sexy without being over the top.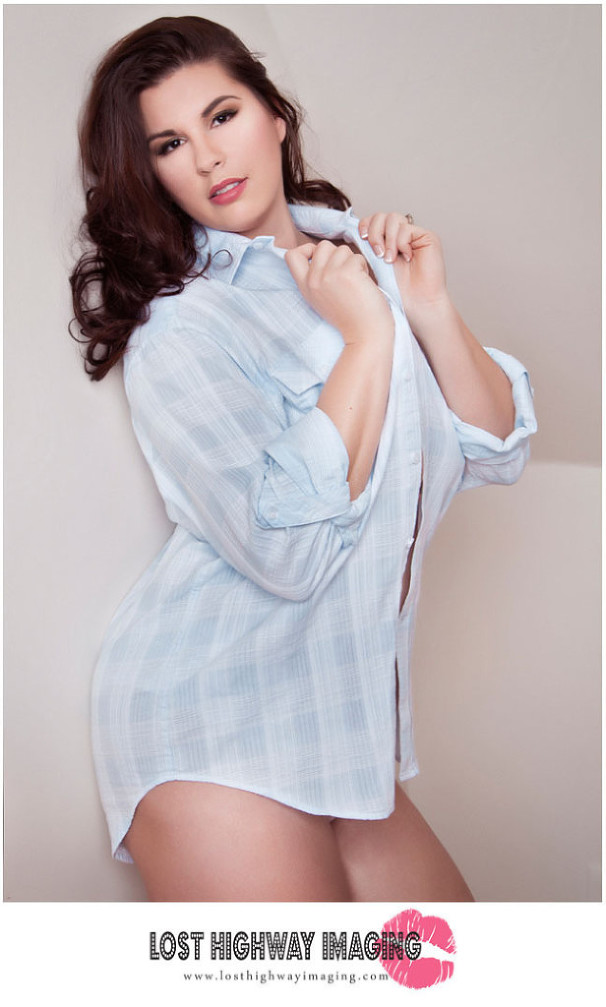 This beauty brought some great casual wardrobe choices to her shoot, including this lightweight plaid shirt. The shirt is clipped in the back to keep it snug and to make sure it flatters her curves instead of hiding them! We can always get creative when getting boxier wardrobe items to fit and I swear by clothespins, small clamps, binder clips and even sometimes painters tape. We always make sure not to damage your clothes, especially when we are fitting valuable or sentimental items like sports jerseys, uniform pieces or dress shirts.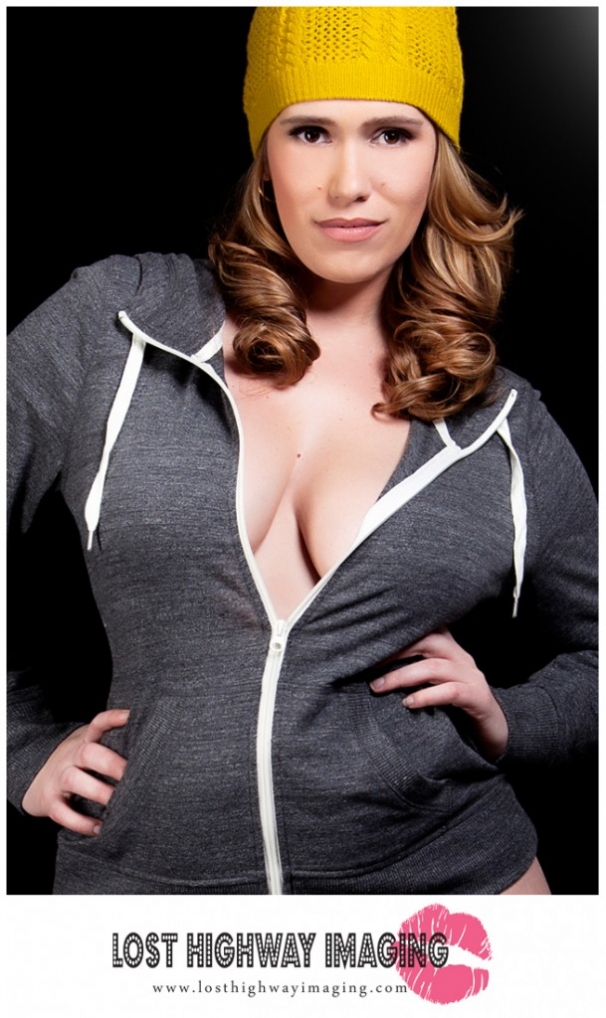 This client came in for a session immediately prior to her mastectomy surgery (her full session was featured on our blog HERE ). This ended up being one of our favorite outfits because it suited her so perfectly! A partially unzipped hoodie can be just as sexy as daring, plunging lingerie!

A cardigan sweater from our studio wardrobe paired with thigh-high striped socks was a perfect choice for this blonde bombshell! It also gave her session variety! And variety during your shoot means variety in your album!

One of our 2017 Brand Ambassadors, Katie, brought one of her husband's favorite NFL jerseys and we sexed it up by clamping it directly behind her back to make sure it hugged her every curve. A big, loose, boxy jersey doesn't flatter your shape so clamping it is the perfect solution for both sex appeal AND a super happy husband!

Another drop dead gorgeous client with a jersey, this time representing her beloved New York Yankees! Anything you bring can be sexy… it just all depends on how you use it!

When you are shopping for sweaters, look for stretchy collars or off-the-shoulder styles! This is a great pose for cleavage and the appearance of ultra-long legs! It's one of my very favorite sweater poses and you can do it with a button up cardigan or a regular wide-neck sweater!

Never underestimate the appeal of a plain white tank and cutoff shorts! You can do a million things with this one simple look!
I hope this helps illustrate that A) You don't need to get naked for your boudoir photoshoot and B) That you don't even have to wear lingerie! You can show as much or as little skin as you are comfortable with and you'll look fabulous either way! Sexiness comes from inside, not out. Whether you want a plain cotton tank and panties, a girl-next-door pair of cutoffs and t-shirt, a textured knit sweater, a favorite jersey or a flannel and boots, you will rock it! Bring what you love, what you feel best in and the outfits that make you feel like YOU!
Ready for your own shoot? Have questions about wardrobe or about shooting with us? Email me at beth@losthighwayimaging.com or connect with me on social media! We also have a private VIP client group you are welcome to join with lots of ladies who have done shoots with us in the past or are planning for one in the future. Find us on FACEBOOK and INSTAGRAM and ask all the questions you'd like! We are here to help!
Lost Highway Imaging is Connecticut's premiere boudoir photography studio, serving Connecticut, Rhode Island, Massachusetts, New York, Boston, and beyond for almost 10 years. Let our decade of experience help you see yourself in a whole new way! Our all-female staff will make sure you feel right at home and comfortable from the first moment. Boudoir photos are the perfect gift for your fiancé, husband, partner or JUST FOR YOU!