At least 99% of the women who come into our Connecticut studio are not models. For most of them, the last time they had a professional photo taken of themselves was their senior year of high school. I LOVE working with everyday women and my boudoir photography studio caters almost exclusively to them! Every once in a while, though, I look to collaborate with a local professional model to flex my creative muscles and try new techniques, poses, wardrobe and backdrops. Like anyone else, not every new creative attempt I make is successful and so I look to collaborate with other pros from time to time for "test" sessions. Rebel Rose is an internationally published model who hails from Boston, Massachusetts. Aside from being a beautiful woman and a talented model, she's also a very skilled cosmetologist and makeup artist who does almost all of her own styling for her photo shoots.
As it turned out, our brand new peacock blue, gold-leafed Victorian couch was finished and in the studio just a few days before Rebel's shoot with me. We knew we HAD to use it! I sourced an outfit and accessories for her to match the couch and she planned her dramatic, fashion-inspired makeup to match! We also planned 3 additional looks to round out our afternoon! Planning looks is an integral part of your boudoir or glamour photo shoot. No matter what type of photography you desire (We DON'T only photograph lingerie, lots of our women choose clothed glamour sessions!), wardrobe styling is a huge part of your shoot! You don't need to be Versace to create a great outfit… you just need to keep some basic questions in mind. Does it fit? Does it flatter? Does it match? Is it interesting to look at? If you keep these questions in mind as you are choosing your wardrobe, you'll find it much easier to put your outfits together! Not sure how to decide what fits or flatters? What is matching vs. coordinating? Not sure how to choose colors or pair textures? Keep an eye out for our upcoming blog post, How To Choose Lingerie That Flatters, due out next week.
Also, I LOVE wardrobe styling and this is an optional service that we are thrilled to be able to offer to our clients! If you are interested in personal shopping services, whether we shop WITH you or even FOR you, please inquire and we'll be glad to give you more information!
To get started, I'll break down the wardrobe that Rebel and I chose for her shoot. Our first look was romantic and neutral, with a Victoria's Secret bra and panty set (Victoria's Secret) and big rhinestone earrings combined with dramatic cat eyes and ruby red lips. This look is timeless and will look just as fabulous in 20 years as it does today. I wanted her pale skin and piercing eyes to take center stage, so we kept the rest of the set and wardrobe neutral. The Victorian bedroom set is our most popular set, and almost all women want to use it at some point during their shoot… usually for at least one outfit, often for two. The set is very simple and elegant, made up of creamy ivories, rich gold silk curtains, a gorgeous tufted headboard and a touch of sequin detailing. It looks beautiful with almost all lingerie and is particularly suitable for creams, ivories, pastels and black lace. The Victorian styling is versatile enough for everything from modern lingerie to vintage 40's and 50's looks.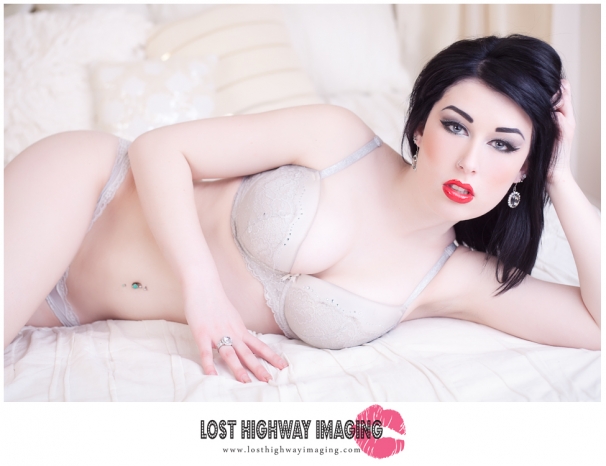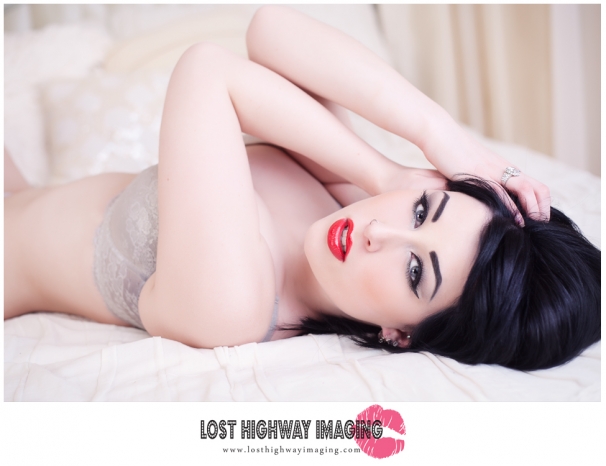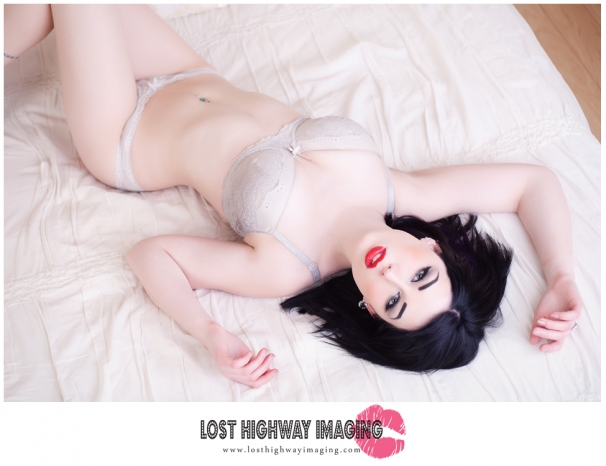 The next set we showcased was our sea of pink tulle. This pink looks beautiful with all skin tones, makeup styles and poses. Rebel and I chose a purple and black lacy chemise with bow details and eyelash trim. The underwire cups give great shaping and lift for back-laying poses and the color was perfect to highlight the purple streaks in her hair. The purple of the lingerie isn't too light or too dark, so it coordinates perfectly with the dusty pink tulle. (This chemise is a size L and is available in the studio to borrow for your own shoot.)


This look was intended to be very modern and fashion-forward. We wanted something super sexy without being over-the-top. The bodysuit is from the Cosmopolitan line carried by JC Penney last year. Unfortunately, they have discontinued their lingerie line (though their bras and panties are still available) but you can still find pieces on eBay and Etsy. The Cosmo line takes inspiration from many of the high-end lingerie brands without the exorbitant price tag. Bodysuits are one of my very favorites because they hug the body, enhance the natural hourglass shape and can also be fitted with supportive panels to nip and tuck in all the right places. This particular piece was made of a satin stretch with underwire cups for extra support. The pattern and color worked perfectly with the couch and the heavy beaded necklace finishes off the look with a bit of shimmer. (This outfit is also available to borrow, along with the necklace.)



This retro-inspired dress is SO much fun!! 1970's mod is coming back in style and I couldn't resist this dress! The bright orange and playful zippers and mid drift cutout are so much fun! We wanted to wrap up the day with something more fashion than boudoir, so we chose this dress paired with electric blue faux alligator heels. The mix of retro and modern was super fun and gave us a chance to play with posing on a simple, solid backdrop.


If you are interested in booking a photo shoot at our Connecticut boudoir photography studio please contact us for an appointment! We serve clients all over the East Coast, from New York and New Jersey, all the way up to CT, MA, Rhode Island, Vermont, Maine and New Hampshire. Many of our clients come from NYC, Boston, Providence, Fairfield, Hartford and New Haven. If you've ever dreamed of being a model in your own sexy lingerie photoshoot send us a message and we'll help you make it happen!