What to Expect
So, you'd like book a photo shoot. Maybe you've always wanted to try it out and see what it feels like to be a supermodel for a day? Maybe you want to create a perfect, one-of-a-kind gift for your partner? Maybe you've been through a big life change… lost weight, got a divorce, got married, had a baby, changed careers? Maybe you've been so busy raising a family or taking care of others that you've lost yourself in the shuffle?
There are a million reasons to book a boudoir shoot and yours is uniquely your own. Whether you are a bride-to-be looking for a bridal boudoir shoot as a gift to your husband-to-be on your wedding night or a divorcee looking to get her sexy back, we can give you the experience of a lifetime! Every day, we help women get in touch with their sexy inner selves and create gorgeous, timeless photos to last a lifetime! We are here to walk you through the process every step of the way, so get in touch and share your ideas with us! In the meantime, here is a basic guideline that will help you get a feel for how the magic happens!

Your Consultation
Every client experience in our studio starts with a consultation. Your consultation might be over the phone, via email or in person, depending on your location, schedule and needs but it is important no matter where, when or how it takes place. Once you have booked your appointment via our online scheduling system (which includes signing your contract and paying your retainer), we will begin to put together all of the pieces that will make your shoot a brilliant success! We start by talking about you… who you are, what you love, what makes you unique!
When you envision your final photos, what do they look like? How do they make you feel? Are they romantic and sweet, with an ethereal, dreamy softness? Are they ultra-modern and cutting edge sexy, right off the the catwalk? Perhaps you picture mens magazine style perfection, with hips and curves and pouty lips with barely-there lingerie? Maybe a timeless, classic, sexy elegance is what you see when you imagine the final images in your head with garters and thigh-highs and strings of pearls? Maybe your vision is daring, artistic bodyscapes, where the nude figure becomes a fine piece of art?
We love tying in details about a person in their photo shoot, whether it is her love of the outdoors, her favorite pet, her training as a professional ballet dancer… so tell us a little about yourself and your life! We also love to include items that have meaning to you. It might be a necklace your husband bought you on a trip overseas, a pair of irresistible, impractical, killer high heels that you fell head-over-heels for, lingerie you wore on your wedding night or a string of pearls that is a family heirloom but those are the details that are so memorable.
The Big Day
When you arrive at the studio (or at the chosen location for an on-location shoot) you'll likely have butterflies in your stomach and you'll be feeling a little nervous and a lot excited! Rest assured that everyone is nervous at first, it is totally normal! Don't worry, you'll have plenty of time to settle in! We will look through what you've brought along, you'll have a chance to peruse the studio inventory of wardrobe, props and accessories and we'll talk a little about our plans for the day! Then you'll get settled into the makeup chair and your transformation will begin!
Our stylist will do a hair and makeup consult with you before your styling is started. Feel free to bring along a magazine or tear out for makeup and/or hair styling if you'd like! You are also welcome to allow her to use her wealth of knowledge to choose the best, most flattering look for you!
You can expect makeup and hairstyling to take approximately 60-90 minutes, depending on the complexity of your chosen look and the length and thickness of your hair. When your transformation is complete you'll be amazed when you look in the mirror! Because not only will you look beautiful, you will FEEL beautiful, too!
Once you are all dolled up, you'll get into your first outfit. Then, prepare to spend the next few hours looking fabulous and feeling sexy and spectacular! Beth will personally coach you through the whole process and help you with poses and expressions. You don't need to worry about not being experienced in front of the camera because she'll walk you through each step. By the time we finish you'll be a pro, you'll feel incredible (and probably a little sore from all of that posing!) and you'll be itching to do it all over again!
Want a little sneak peek behind the scenes? Check out this little video from Danni's shoot with us!
After Your Shoot
Once your photo shoot is over, we will schedule your image reveal and ordering session. Your ordering session takes place either at the studio or at a local coffee house approximately 10-14 days after your photo shoot. We will start with a slideshow of your beautiful finished images! Then you'll be able to choose your final images from your session and decide what products are perfect for you. We offer a variety of products including custom made albums, collections of matted prints and exquisite fine wall art. We also have a few fun extras like iPhone cases, playing cards and smartphone apps complete with your photos!
In general, your expected product turnaround is 3-4 weeks. Our Signature Centerfold Albums are custom-designed specifically for you and are then carefully printed and bound individually at our album manufacturer. This process takes time but the gorgeous heirloom quality is worth the wait! If you are in a hurry and need a last-minute gift, please ask about our "Sneak Peek" option, which will give you a handful of images to surprise your partner with in time for your special day, with the promise of more to come soon! 
Retouching
 It goes by many names… retouching, editing, airbrushing, Photoshopping, post-production and so many more. But, what IS it?
Retouching is the process that you see at work in all major magazines, advertising, commercial publications, makeup ads, billboards and so much more. Retouching, or editing, has many purposes but it serves one major purpose in the genre of glamour and boudoir photography… to make you look your best! Retouching should leave you looking like the absolute best version of yourself, not like an unrecognizable stranger! Careful, knowledgeable, thoughtful retouching makes a great image truly spectacular! Many photographers think that retouching is a substitute for good photography but that couldn't be further from the truth. A spectacular image has to start out as a great one right out of the camera, before it is ever even opened in an editing program like Adobe Photoshop.
Retouching can serve many purposes, such as smoothing skin, whitening teeth, removing blemishes and scars, slimming and trimming the body, flattening tummies, enhancing cleavage and so much more. How and what we edit is very much a collaborative effort with our clients. Our priority is creating images you adore and we are very much aware that retouching has a lot to do with that! We have a general standard of retouching that we do to all of our images. We remove all temporary marks and blemishes by default (acne, bruises, breakouts, etc) and do basic reshaping where bra or panty elastic may have dug into your skin. We smooth skin, brighten undereyes, diminish wrinkles, slim areas that might need it and generally polish every image. We discuss retouching with each client and are more than happy to do more or less retouching depending on your own tastes and preferences. Our goal is to give our finished product the polish of a magazine ad without taking away your own individual beauty!
Below you'll see some examples of our retouching at work. The models graciously allowed their unretouched image to be featured along with the finished product so you are able to visualize what is possible with Photoshop. We'll discuss your personal preferences for your desired level of retouching at during your session.
Light Retouching: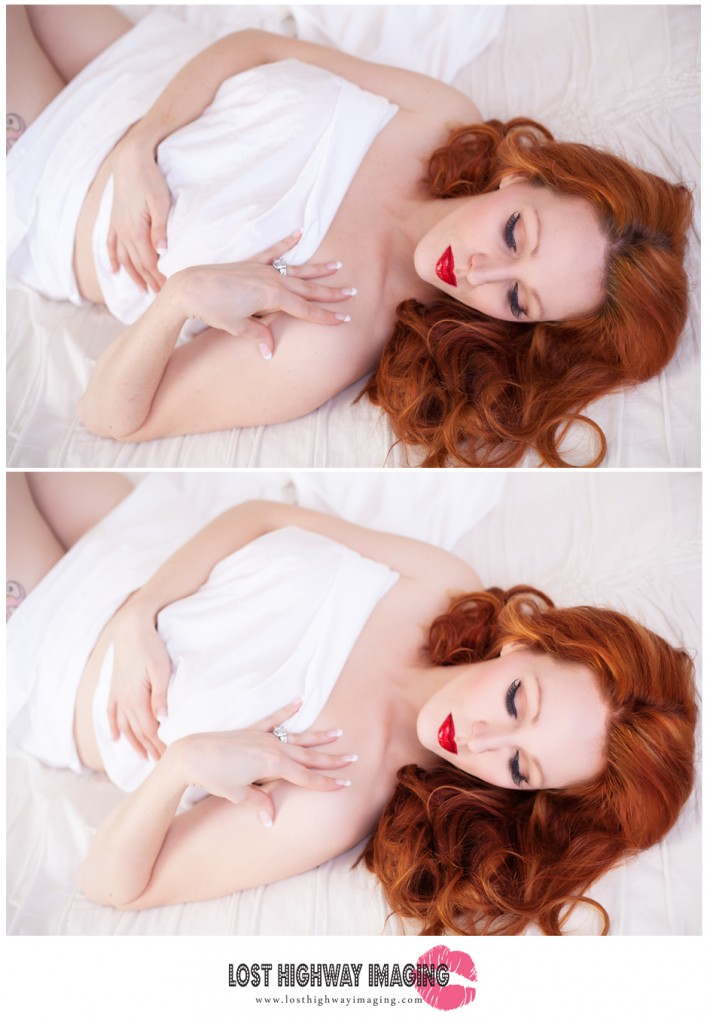 Moderate Retouching: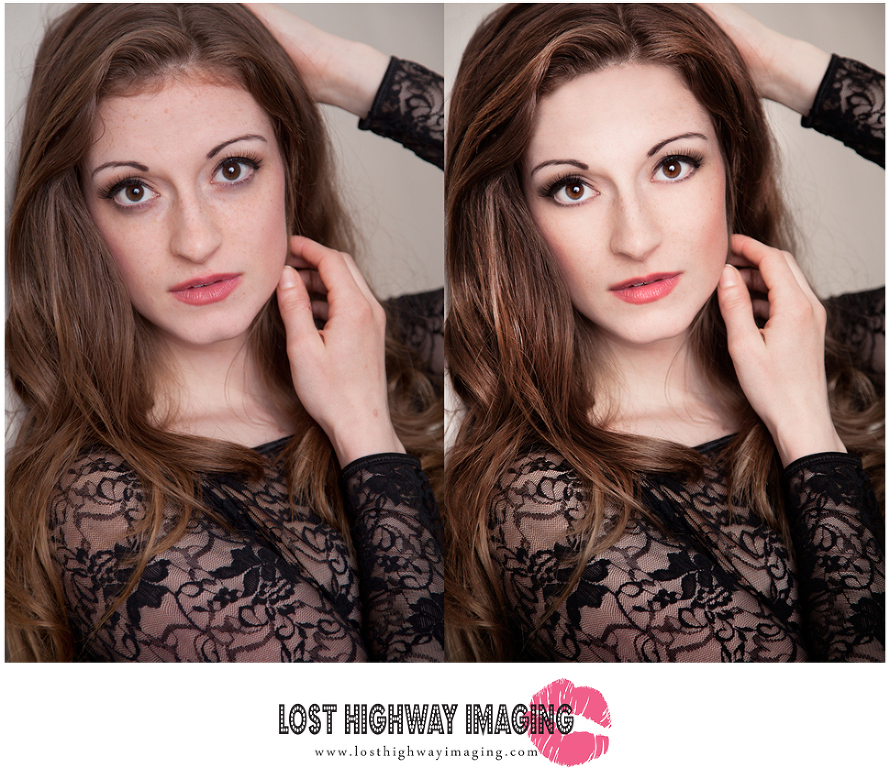 Heavy Retouching (Composite):