In true artist fashion, I'm a few weeks behind on this but here we are! Ringing in December with a flashback to October leaves and the beauty of Autumn in Connecticut. While I'm not really a cold weather girl, I do love the changing seasons and fall is one of the most beautiful here on our property! The maple trees explode with color and the vibrant oranges, reds and yellows reflect off the water in the pond so beautifully! Despite CRAZY fall allergies, I will always have the softest spot in my heart for the turn of the wheel that spins us into the colder months. I invited Allison over with her lovely pup, Fergus, to play in the leaves and capture the magic that surrounds us in these months. I knew she would bring along the perfect wardrobe and, after what felt like a million texts, we decided on a houndstooth dress (in honor of my grandmother who adored houndstooth) and a gorgeous red belted trench, along with kitten heels and, of course, a perfectly coordinated Fergus! He's just the cutest Golden Retriever on earth and I think I spent more time snuggling him than shooting!
We photographed this set at my house, as opposed to the studio, and my kids hung out with Fergus while I styled Allison's hair and makeup. I'd made a mood board for us to share before the shoot, so she knew how I envisioned her styling for this set. Mood and inspiration boards help keep my clients and I on the same page during the planning stages and ensure that we share a vision for the final images. All shoots with me, whether fashion, pinup, boudoir, personal branding or otherwise, include a consult to help plan looks, themes and styles. If you are considering a shoot of your own I encourage you to visit my Pinterest page for lots of ideas, from wardrobe suggestions and makeup looks, to poses and shoot concepts! We don't copy images from Pinterest directly because I want your shoot to be uniquely yours, but seeing a mood board of 15-20 images gives me a feel for your overall style and desired vibe in just a few seconds and is much easier than trying to describe to me exactly what you envision your dream shoot to look like!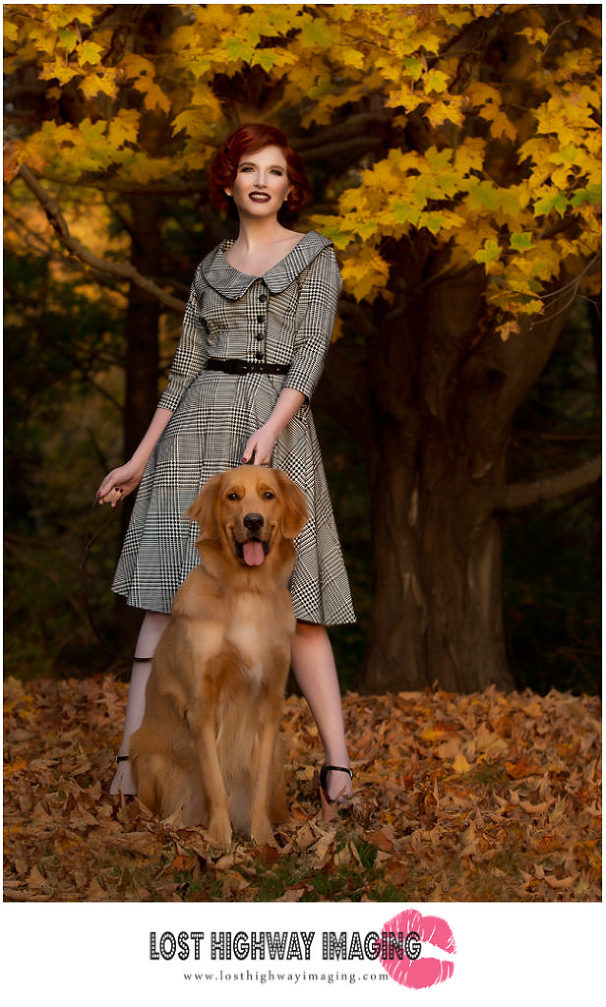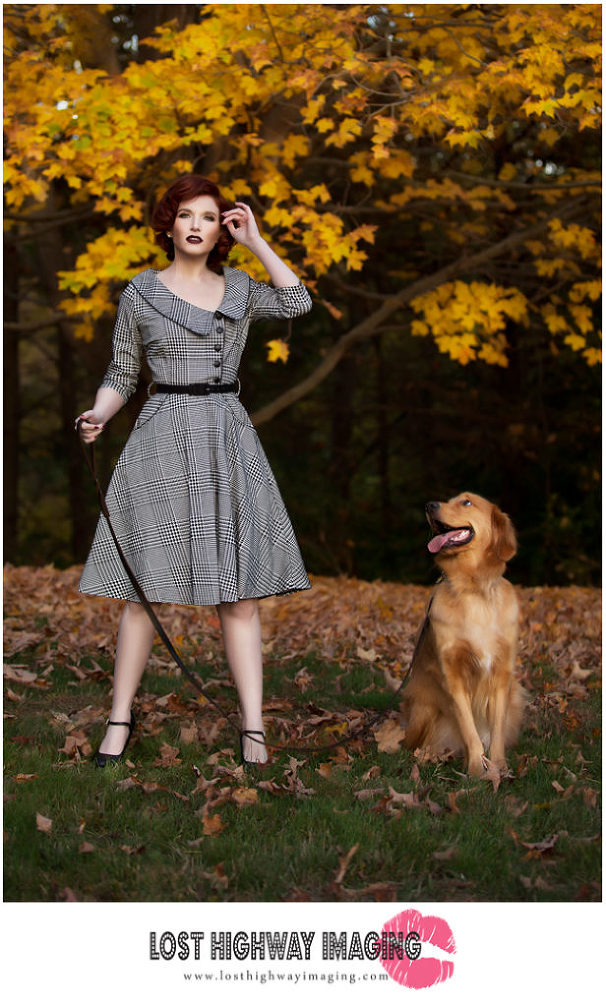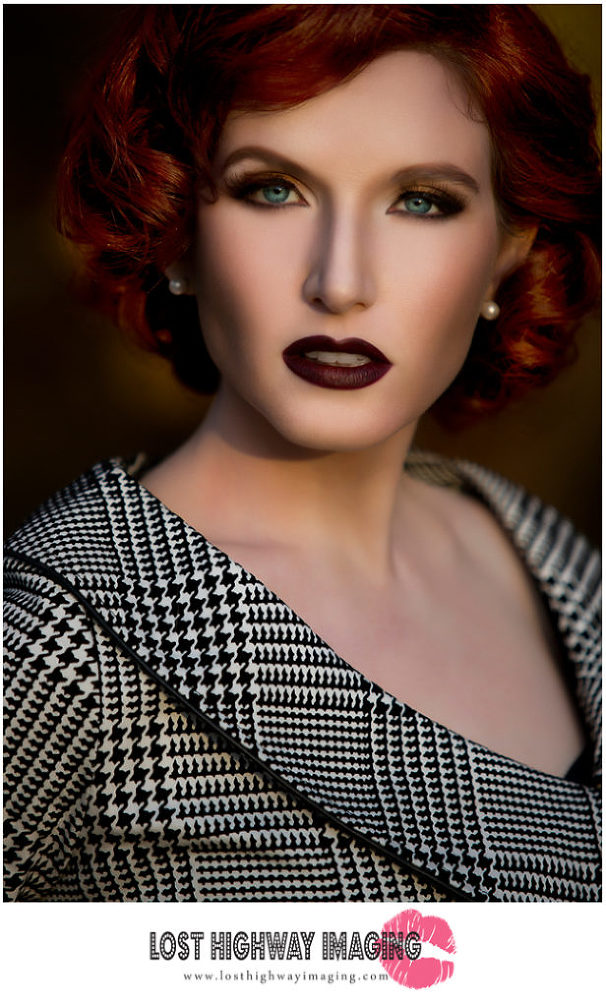 We, of course, wanted to capture a classic headshot in the fading autumn sunset light as well! The sunsets here are just beautiful and they cast the most flattering golden glow across the lawn. Allison's red hair practically glittered in the sun and I wanted her headshot to feel as dreamy and fantasy-like as the moment really felt standing there in person. Her deep gold eye makeup really made her blue eyes pop in the amber light and the berry lip is not only trendy this year, but plays off her hair color so well! When she put her red trench on, the colors just exploded to life and we couldn't help but to get a little playful and capture some fun expressions and some movement! Then I recruited my daughter to toss handfuls of leaves into the frame for some unusual, unique shots framing her with falling leaves!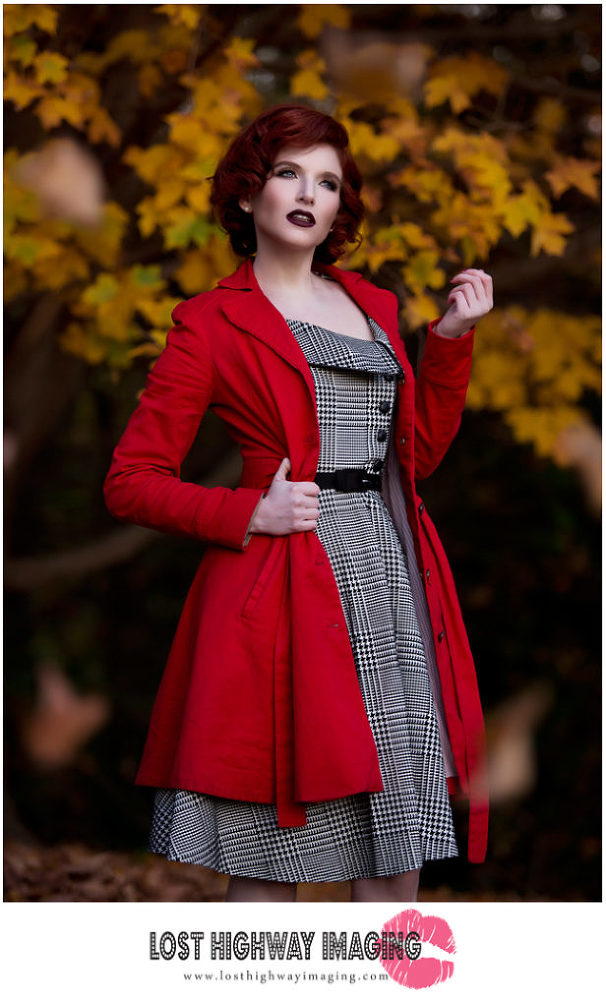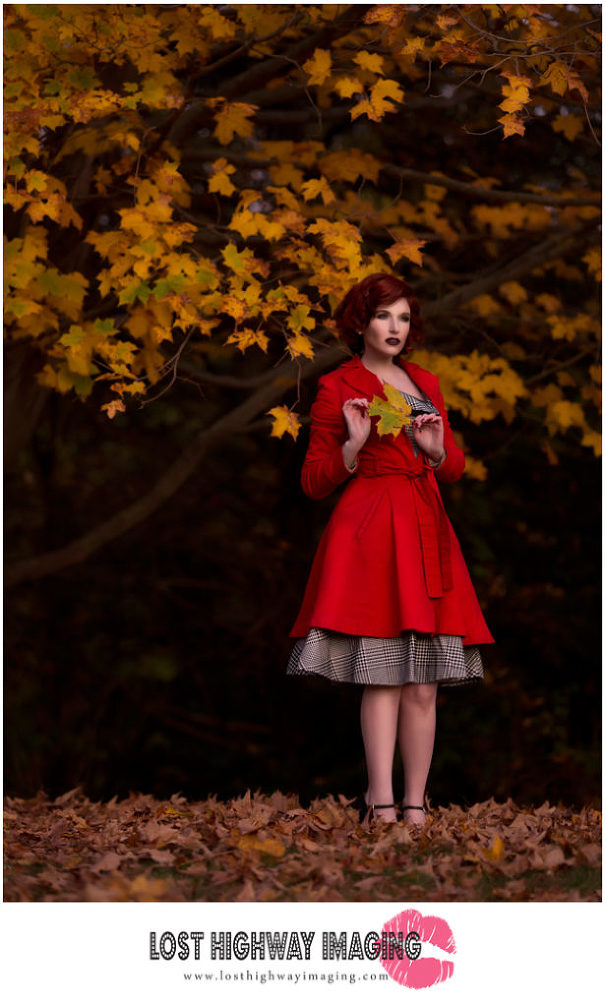 Capturing those last fleeting rays of sun was a magical moment and there is absolutely no color grading or color editing on these shots. The golden glow is exactly how I photographed it as the sun set below the hill behind me. I love this magical little spot and I can't wait to use it again next year and the leaves being to change color and fall from my favorite tree. Maybe next year I'll hunt for some gorgeous fall-colored lingerie and shoot boudoir images in this spot at sunset!
Interested in a shoot of your very own? Always wondered what a boudoir, fashion, glamour or pinup photoshoot would be like?  Looking for a truly unique gift idea or an incredible gift to yourself? Lost Highway Imaging in Preston, CT is here to help you plan every detail of your shoot to ensure you have the experience you always dreamed of! Connecticut photographer, Beth Claire, was a model long before she was a photographer and she'll be able to walk you through every step of the process from wardrobe and styling, to posing and expressions. If you are seeking the premiere boudoir photography studio in New England, look no further! Email her now at beth@losthighwayimaging.com or call or text 860-608-4868