Today on our blog we have a guest post! Brittany Moody of Brittany Made Me Pretty stopped by with some must-have tips on how to achieve perfect skin for your photo shoot with us here at Lost Highway Imaging. Brittany is not only a guest blogger here on our site but she is also a guest makeup artist! Since her move back to CA a few months ago we've been planning a return trip for her to Connecticut! It looks like she'll be returning to our Preston, CT studio for a week in October but, in the meantime, here is some of her best advice of skin prep for your boudoir, glamour, pinup or beauty session! Below you will find Brittany's words of wisdom for gorgeous, glowing, sexy skin!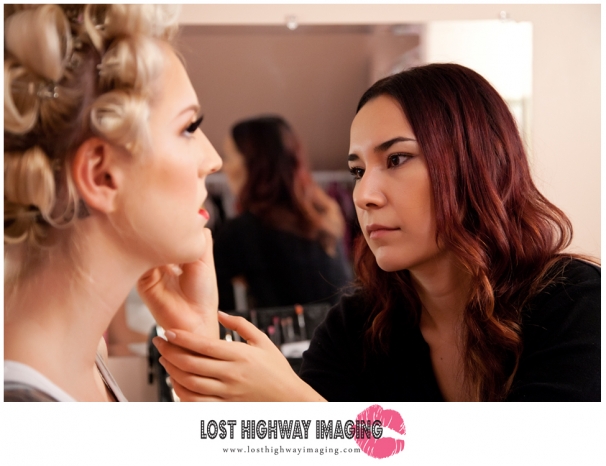 You booked your boudoir session, you picked your outfits and lingerie, you even bought those sky high heels that you're prepared to break your ankles in. That's it, right? There can't be anything else you need to prep for. What about your skin? Well that's what the makeup artist is for right? Wrong my friend. Makeup may be able to cover a multitude of sins, but it can only go so far. Your personal care can make a world of difference in the end result of your makeup application. I put together a short list of some skin prep you can do at home before your big shoot to help you look even more stunning!
Hydrate:  Drink plenty of water and keep your skin hydrated! Foundation does not go on smoothly over rough dehydrated skin. This can definitely show up in your pictures and it isn't pretty.
Moisturize: People tend to over look skin care and focus on trying to find a foundation that will fix whatever they don't like about their skin, kind of like a band aid. You can temporarily cover a wound with a band aid, ultimately the wound needs to heal. One of the most common habits I've seen is people completely skip moisturizer. Giving the skin the moisture it needs is super important for all skin types. If you're dry, find a rich formula that works for you. If you're normal, a light moisturizer should be fine, and if you are oily, I'd try an oil control lotion. Don't forget your body! Moisturized skin looks youthful!
Sleep: Get plenty of rest the night before your shoot. Your makeup artist may be able to cover up your little eye baggies but you won't feel your best. When you don't feel your best, you don't look your best.
Exfoliate: Depending on your skin type, getting rid of that dull top layer of skin can make a huge difference in your skin's appearance. Smooth skin looks so much healthier than dull dry skin.
Hair Removal: Don't forget to wax, shave, or tweeze! If these are regular parts of your beauty routine make it a point to get them done. Nothing like professional hi res photos to remind you, "You forgot to shave your under arms."
Tanning: If you MUST tan, I suggest spray tan! Much less damaging to skin than laying out in the sun and leaving your skin vulnerable to getting burned. No one wants to show up bright red and in pain on the day of their shoot. (Note from Beth: PLEASE try not to tan. If you feel that you absolutely must, please contact me and talk about it first. Tan lines are very, very difficult to remove with editing!)
Hair: Day old hair holds styling a bit better than fresh clean hair. So of all the things on this list to forget, forget to wash your hair the day of your shoot.
If you found that information helpful please feel free to visit Brittany's website: Brittany Made Me Pretty or follow her on her blog: BMMP Blog
You can also follow her adventures on FACEBOOK!
Thank you Brittany, as always, for your makeup wisdom!