I'm excited to announce a brand new addition to our client-pampering lineup… professional airbrush makeup applications! We are thrilled to have added a professional Temptu airbrush machine to our makeup room and it has taken our makeovers to a whole new level! Airbrushing is more than just a current trend, it is a staple in Hollywood and on the runway. Airbrush makeup is faster to apply than traditional foundation and provides flawless, lightweight, opaque coverage for most skin types. There are many skin conditions that can also be helped tremendously with airbrushing… including rosacea, dry skin, eczema, psoriasis, sun damage and more.
Below I have an example of Katey, our wardrobe designer, before and after her makeup application. Katey has some natural redness to her skin, as most women with her coloring do.  You can see that her skin tone has been evened and smoothed, even without the use of Photoshop. The natural redness has been covered flawlessly and then blush has been airbrushed on, along with contouring of her jaw, cheekbones and nose. This makeup was applied for a photo shoot, so the blush is a bit heavier and a bit brighter than it would be for an event or daytime wear. NO retouching has been done to either of these images, they are both straight out of the camera.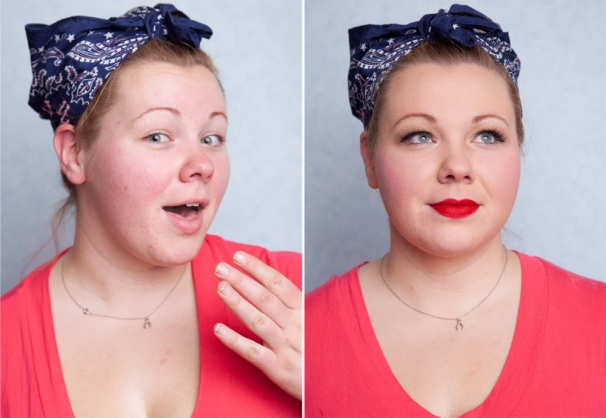 If you are interested in airbrush makeup please let me know during your consult. Some skin types do respond better to traditional foundation, so we can decide together whether airbrushing will give you the results you desire and whether it is the best choice for your shoot.