Miranda was gifted a session at our studio for her birthday. Her mom wanted to give her a special day to go do something just for herself. She is a mom of two small kids, exactly the same ages as my youngest two. It's no secret that I tend to be emotional (even a sentimental commercial on television can make me cry), but Miranda's interview really hit home. I'm a mom of four, and I vividly remember when my oldest were 2 and 4. While I loved every minute and wouldn't change it for the world (and often look back and miss when they were little), I'd be lying if I said it wasn't HARD. It's so easy to lose yourself when you are raising little kids. Miranda is not only a wonderful, attentive and nurturing mother, she is also a strong, powerful, confident, beautiful woman. The power to reconnect intimately with herself was there all the time… she just needed a little push to make it happen! I'm honored that she trusted me to reintroduce her to her inner Goddess!
Thank you, Miranda, for being so excited to share your experience. I have a feeling that your words are going to resonate with so many other moms out there. Thank you being willing to open up and be so vulnerable and allow us a glimpse into your feelings about your boudoir photo shoot with us. You are a truly beautiful soul, both inside and out.
LHI: What initially made you decide to book a boudoir photo shoot with us?
Miranda: It's funny, my mother gave it to me as a gift. She sensed that I was going through a hard time, and that I wasn't acting like my usual chipper self. She thought I could use a little "me" time, and she was right! I was diagnosed with depression in November and was really struggling with identity issues. I had given up my job to become a stay-at-home mom for my two toddlers—a decision that I will never regret, but one that really did a number on my relationship. All of a sudden, my fiancé and father of my children had taken over the burden of solely supporting our family of four and actually changed his career for us. It became really stressful on our family and created a rift between us. I realized that I had neglected our relationship, that I had changed and was now spending my day completely catering to my children, and that there was little room for romance. I never told him that after I had our kids I was no longer comfortable in my own skin, so making time for us wasn't that much of a priority for me. I needed to do something to snap myself out of this slump that I had been stuck in.
LHI: What was your biggest fear before you booked your shoot? Did it come true and, if not, what happened instead?
Miranda: My biggest fear would have to be that I wasn't going to be able to be "sexy" or that my insecurities about my body were going to make me look ridiculous. My body had changed so much after having kids that I thought that I no longer even possessed the ability to be sexy. When I got there I was really nervous, and while getting my hair and makeup done, I told Beth that I was really insecure about what my body had become after having kids, and she did the most amazing thing. She dropped what she was doing and came around to look me right in the eye. She told me that she had four kids and they changed her body too, she instantly made me feel so much better. Here was a woman, and mother that completely understood me, and what had happened after giving birth. She was raw and honest. She gave me confidence that I can still be sexy after having kids.
LHI: What was your favorite part of your shoot?
Miranda: Everything! Being pampered and fussed over was so strange and foreign to me, it was a real treat. Not to mention, the big reveal of what my hair and makeup would look like for my pictures! I felt beautiful and like a women again! The best way I can describe the experience would be when you go out shopping with your best friend. You try on different things and laugh at the ones that just aren't working, or giggling because you just can't for the life of you figure out what that strap is for. Then, taking pictures of the different looks, it was nothing like I had imagined. It was so light and fun, and she guided me through different poses with such ease and encouragement that I was actually feeling sexy! She fawned over my every move, which made me feel like a professional model. I felt powerful and confident in my own skin.
LHI: I know that, after your shoot, you talked specifically about moms taking time out to do something like this for themselves. Why do you feel so strongly that women should treat themselves to this experience? What did this experience change for you in your own life?
Miranda: Being a mother you can feel like you can no longer be sexy, whether it be the lack of time, sheer exhaustion, or the fact that bringing your little angels into the world has left your body considerably different…all of a sudden you can barely brush your hair, let alone get dressed up and put on makeup. It can really drag you down. There is so much you have to get done for your family that taking time for yourself becomes rather impossible. There is always a Mount Everest of laundry that's been piling up or someone that needs something. You tend to put yourself on the back burner until you can barely recognize the face staring at you in the mirror. I know I was one of those women that had just given up. To have someone pamper you and dress you up in super sexy outfits, is a really great ego boost one where you can get a real look at your sexy self, and see that you've still got it. That is something that I think all women need to be reminded of. The shoot really pulled me out of my depression. Seeing my photos after feeling like a princess was mind-blowing, and life changing. I felt confidence in myself that I haven't felt in a long time. It completely changed my relationship. In fact the confidence I gained followed me in all aspects of my life. Even when I was in the grocery store and had what I was hoping was mustard in my hair. I knew what I was capable of and now I had the photographic proof that I still got it. Just because we are mothers doesn't mean that we have stopped being women!
LHI: If you were going to tell your best friend about your experience with Lost Highway Imaging, what would you tell her?
Miranda: I have told everyone I know about my experience, and how much it has transformed my life. I think everyone should give it a try. It will absolutely change the way you look at yourself. It's like someone pulled out your inner sexy kitten and made you finally see it, and that is something that no one can ever take away from you.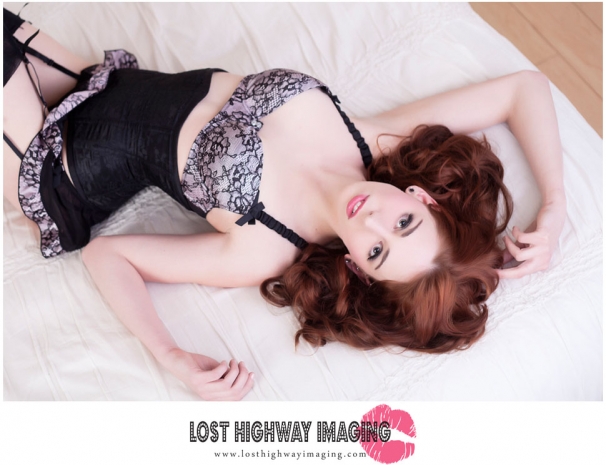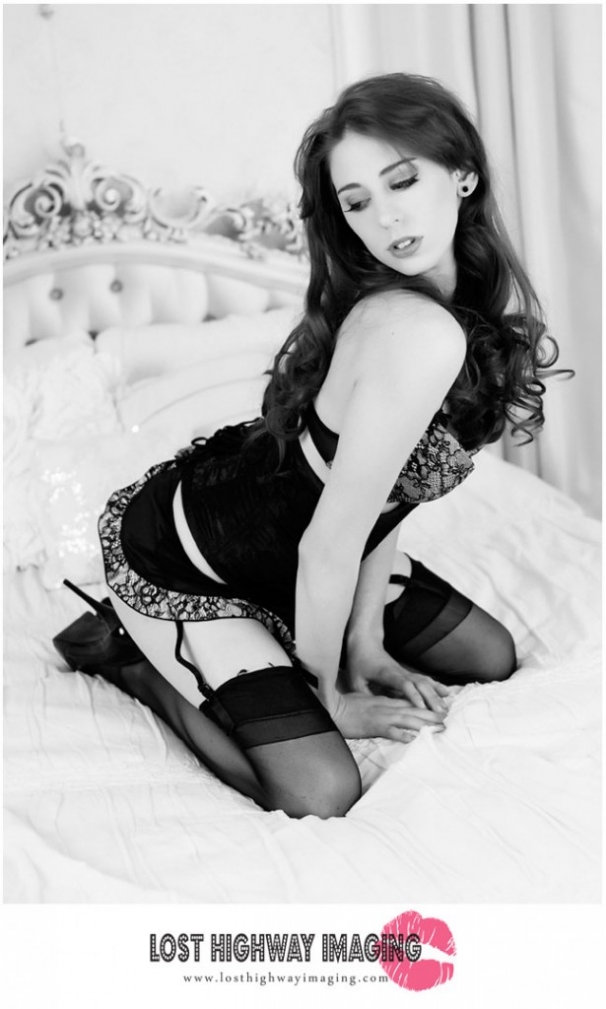 Thank you, Miranda, for sharing your beautiful words AND your beautiful face! I am honored that I was able to be a part of your journey. I can't wait until we do it again!
Interested in your own sexy lingerie photoshoot? We serve clients all over the Northeast, from Maine to New York and everywhere in between, including Massachusetts, Rhode Island, New Hampshire, NYC, Connecticut, Fairfield and beyond. Whether you need a Boston boudoir photographer or are visiting Foxwoods or Mohegan Sun Casino in Connecticut, our studio can help you create the glamorous photos of your dreams! Located only minutes from the casinos in historic Preston, CT, our studio specializes in photography for women, by women. Our all-female staff will doll you up and make you a supermodel for a day! An album full of gorgeous photos is the perfect anniversary gift or wedding present to your groom-to-be and it is also the perfect gift to yourself! Contact us for more information on how to book a shoot of your very own!