It is no secret that I am love with French everything. I love their architecture, their food (minus the escargot), their interior design, their fashion, their art… pretty much all of it. I started taking French in the eighth grade and took it through college (though I'd be lucky if I could order at a restaurant and find a bathroom in fluent French… foreign languages aren't my strong suit). And, because of my love of decadence, opulence and excess, I am obviously totally in love with Marie Antoinette. I've read all of the historical fiction that exists about her and my home office/dining room is an homage to her and French design in general. This is my editing room/dining room in it's natural state: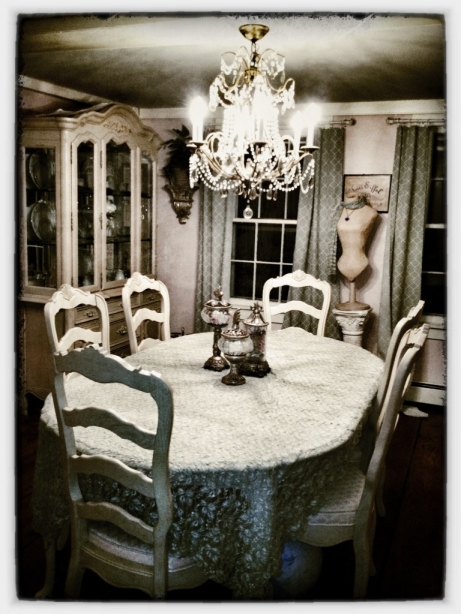 When I first met Brittany, my makeup artist and hairstylist (who recently moved back to CA but will still be guest starring around here every so often, lol) we wanted to collaborate on a personal project together. The very first idea she threw out was Marie Antoinette and I knew it was meant to be! We were always so busy with clients that we never found time to shoot it… until she announced that she would be moving back to her home state of California. We knew it was time to make it happen! We'd both been collecting ideas and props for a while an, in a short 3 weeks, we pulled it all together!
I made the wardrobe, the faux cupcakes and built the set. Brittany researched hair, makeup, styling and planned the look right down to each eyelash! Below you'll see photos of the project in progress… and because we got crunched for time you'll see some iPhone photos thrown in there, too! Very professional of me, I know! Haha!
First came the cupcakes. The lady at Home Depot looked at me like I had three heads when she asked what I was making with Plaster of Paris, joint compound and styrofoam and I answered "cupcakes." Home Depot employees no longer ask questions about what I buy. Hahaha!
The Start of Cupcakes: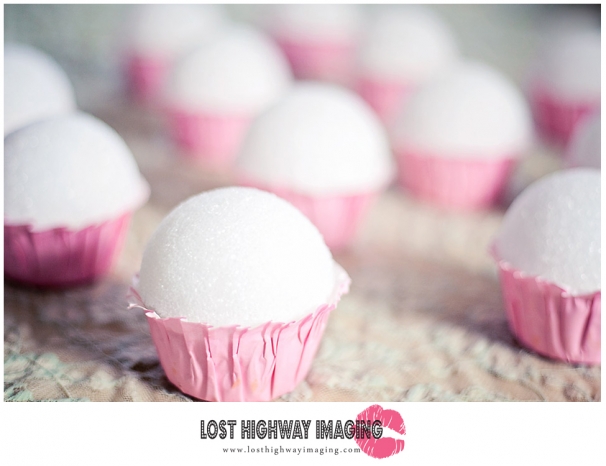 Finished Cupcakes!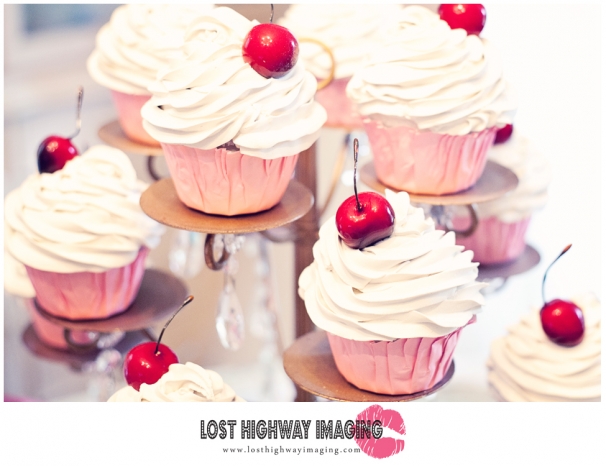 Corset: Phase 1 – First layer of lace and 1 layer of tulle applied

Corset: Phase 2 – Second layer of lace and first layer of trim applied

Corset: Phase 3 – Working on the bows and hand stringing the pearls (and on to my lovely iPhone photos, lol… time crunch!). I owe huge thanks to my best friend Laura for staying up with me and making this until 2am.. and for making each of those bows by hand and stringing the pearls on one by one!

The mess we created!!

Then this brilliant piece of art suddenly came up on Craigslist (I've been searching for one for over a year) and I HAD to have it! My husband drove 2 hours to go picked it up at 8pm on a Saturday night! I steam cleaned it at midnight and started gold leafing it first thing the next morning! (Those are my kids heads… they are testing out the gold leaf!)

AMAZING what a couple of steam cleanings and a metric ass ton of gold leaf can do! I might marry this couch…. I am irrationally in love with it! (The left side is still wet from steam cleaning, lol!)

Then it was the big day!! Brittany did Beth's hair and makeup while I put the finishing touches on her wardrobe (and by that I mean I sewed her bloomers, lol!)

The Devil is in the details, as they say… <3


And then it was time to pull it all together and make magic!!





This shoot was my own personal Alter Ego fantasy image (for more about our Alter Ego couture portraiture line check out this link: Alter Ego
I also want to sincerely thank the team that made this all happen!!! I couldn't do it without you guys!!
Model: Beth Brash
Stylist: Brittany from Brittany Made Me Pretty
Wardrobe Assistant: Laura Catherine
Set Assistant: Lauren Limata
I should also probably thank my husband for tolerating an enormous set build taking up 3 rooms of our house for 2 weeks and spending hours in the car to pick up a ridiculously heavy couch on a Saturday night! Oh yeah, and spending 2 months scouring flea markets for props, vintage lace and 30 pounds of vintage costume pearls!